Frankenstein Halloween Craft with a Twist!
Hello there, crafty parents and teachers! Halloween is just around the corner, and what better way to get into the spooky spirit than with a fun and creative Halloween craft for kids (Frankenstein head) Today, I'm going to show you how to make this fantastic Frankenstein craft with a unique twist – a pair of glasses that you can customize with your own designs!
Getting Started
To embark on this thrilling crafting adventure, gather the following materials:
Scissors
Glue
Markers or coloured pencils
The Frankenstein face template (included in the resource)
Step 1: Colour Frankenstein's Head and Face
First things first, let's bring Frankenstein to life by adding some vibrant colours to his face. Use your markers or coloured pencils to add personality to this iconic monster. Will he be happy, scary, or silly? It's entirely up to you and your little artists to decide!
N.B. There is no need to draw the eyes as that area will be covered by the glasses.
Step 2: Design Your Glasses
Now comes the exciting part – designing your own pair of glasses for Frankenstein! Get creative with your imagination and draw spooky spiders, creepy cobwebs, or any other Halloween-themed designs on the lenses of the glasses. If you prefer, you can use the images included in the resource to cut out and glue onto the glasses.
Step 3: Cut and Assemble Frankenstein's Glasses
Carefully cut out Frankenstein's glasses along the lines. Be sure to ask for adult assistance if needed, especially for the more intricate parts.
Step 4: Glue the Glasses
Now it's time to give Frankenstein a spiffy new look! Apply glue to the back of the glasses, then carefully place them onto Frankenstein's face. Make sure the glasses align above the nose, and press them gently to ensure a secure bond.
Step 5: Display Your Halloween Craft
Voila! Your Frankenstein craft is complete and ready to make a spook-tacular addition to your Halloween decorations. Display it proudly on a wall, your fridge, or even in a window for everyone to admire.
Crafting with kids not only ignites their creativity but also provides an opportunity for quality bonding time. This Frankenstein craft combines the joy of artistic expression with the excitement of Halloween, making it a perfect holiday activity.
So, gather your little ghouls and goblins, and get crafting! Whether you create a merry or monstrous Frankenstein, it's sure to be a fang-tastic experience that will leave your kids with smiles on their faces.
I hope you enjoy this spooky yet fun Halloween craft idea. Don't forget to share your creations with us – I'd love to see how your Frankenstein craft turned out! Happy Halloween crafting!
Click HERE for this Halloween craft for kids (Frankenstein Head)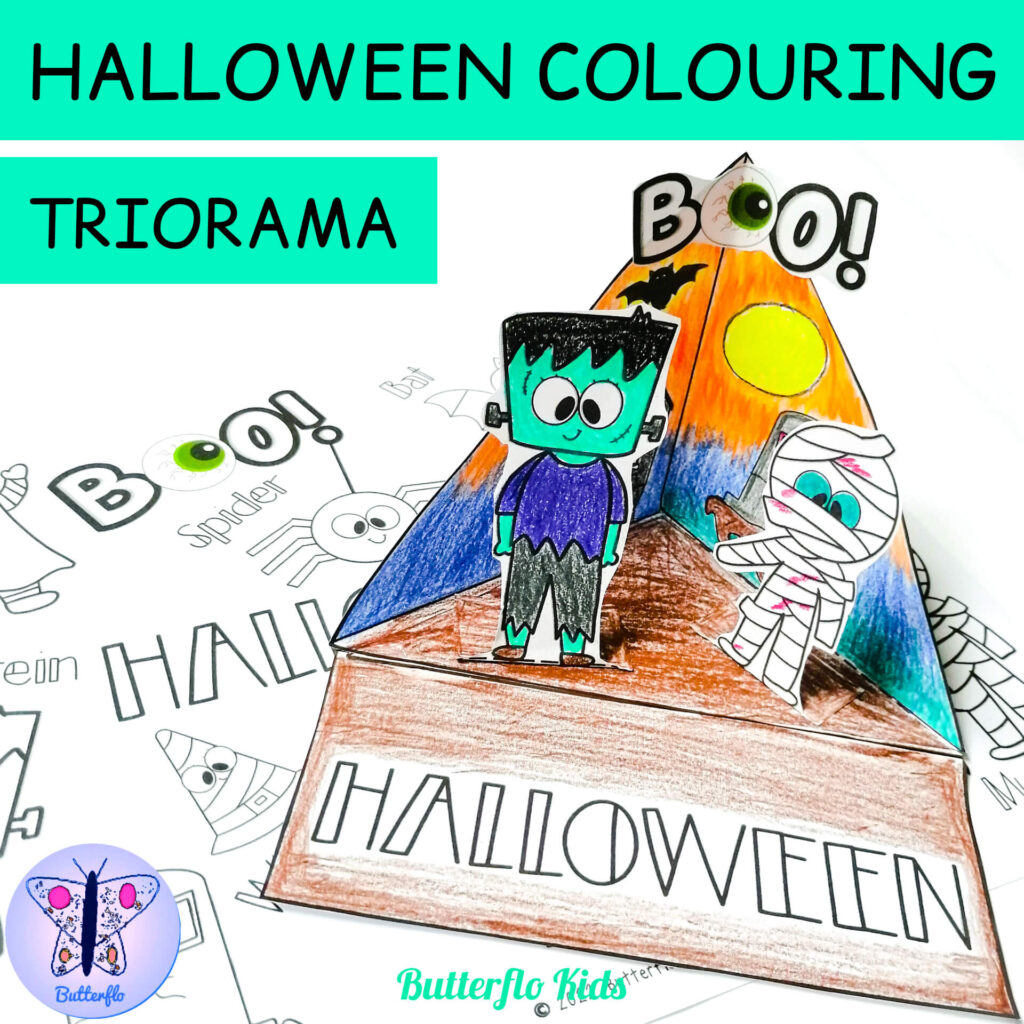 You might also like this Halloween Colouring Page and Triorama