The Magic Roundabout (Carousel)
Not trying to show my age, but The Magic Roundabout was one of our favourite children's tv shows.
Many hours were spent in front of the television watching this programme with my sisters.
The Magic Roundabout TV Show Facts
Have you ever thought about what kind of shows and movies your parents watched when they were younger?
If they grew up in England, it's possible that they enjoyed the popular tv series "The Magic Roundabout." This show aired just before the news and was a hit in the 1960s and 1970s.
For those who grew up with "The Magic Roundabout," the beloved characters of Zebedee, Dougal the dog, Florence, Brian the snail, Ermintrude the cow, Dylan the rabbit, and Mr. McHenry the gardener hold a special place in their hearts.
These memorable stories continue to be treasured by many.
The series was, in fact, based on a French programme called Le Manège Enchanté created by Serge Danot. It was later adapted for British viewers by Eric Thompson – the late father of Emma Thompson.
The Magic Roundabout – Main Characters
This snail has been known to lose his temper. He agrees to everything that Dougal says so he's obviously not the leader of the group.
Dougal's the shaggy dog who's addicted to sugar. He's known to be sarcastic and sometimes rude, but of course, everybody's got a soft side! He is of course the leader of the pack and he believes everything revolves around him.
Now every show has to have an oddball. Dylan, the spacey rabbit, is the hippie of the group. You'll usually find him sleeping or playing his guitar.
The pink cow is the only other character to steal the show. She has a crush on Dougal, which is pretty obvious.
Florence is a real girl, not an animal. She is caring, loving and really sweet. That's why she always worries about Dougal.
He's the jack in the box who announces his arrival with a 'boing'. He's the reason the magic returned to the roundabout. Zebedee brought all the children to play there and he's the one who makes everything right when it goes wrong. Every episode ends with Zebedee saying, "Time for bed".
The operator of the roundabout.
The optimistic and caring gardener who tends to his flowers in his garden or shed.
Read more about THE MAGIC ROUNDABOUT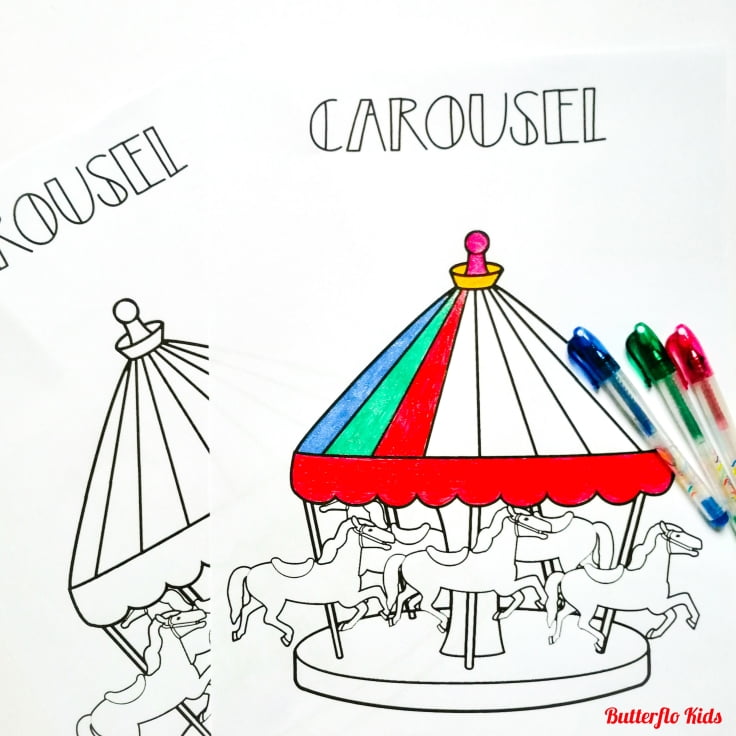 Print out this fun CAROUSEL COLOURING PAGE for your kids
Click link below.
Idea for this post from HERE
YOU MIGHT ALSO LIKE PLAY SCHOOL WINDOWS