It's pizza time (again)!
The Irresistible Allure of Easy Homemade Pizza for Kids
Kids and homemade pizza share an unbreakable bond that transcends generations. The magic lies in its simplicity, as young chefs-to-be can actively participate in crafting their culinary masterpiece.
With flour-dusted hands and giggles of delight, children revel in the process of kneading dough, an activity that fosters a sense of accomplishment and creativity.
Once the canvas is ready, kids can unleash their inner artists by smearing tangy tomato sauce, sprinkling gooey cheese, and adorning toppings with glee.
The anticipation builds as the pizza bakes, filling the kitchen with an aroma that tickles taste buds and fuels excitement. Finally, the moment arrives – a steaming, golden-brown pizza emerges, filling hearts with satisfaction.
Beyond the sheer joy of cooking, homemade pizza allows kids to savor a dish made with love, nurturing a fondness for culinary adventures. So, when it comes to creating delicious memories, easy homemade pizza reigns supreme for our little gastronomic enthusiasts.
We all know that most kids love PIZZA, so here's an easy homemade pizza activity that they will love just as much. 🍕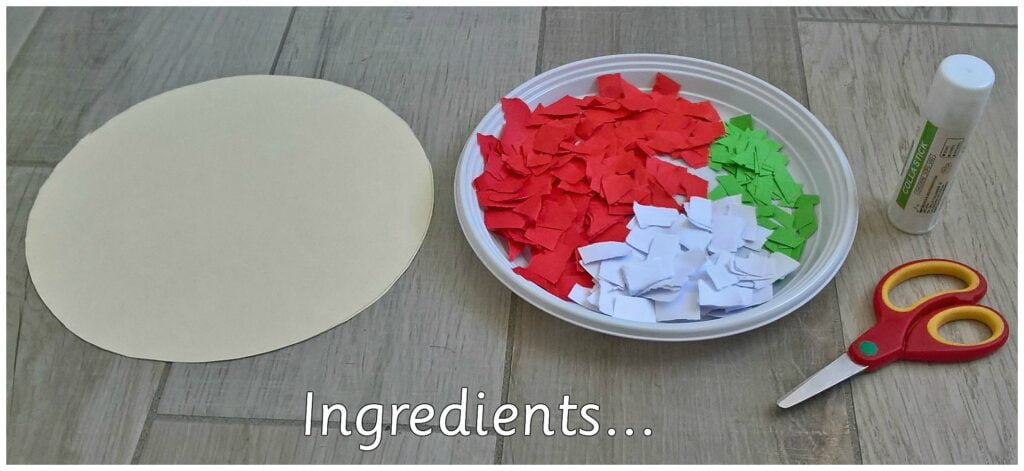 For this easy homemade pizza (recipe) you will need
Scissors
Glue stick
Cream paper (pizza base).
Red paper (chopped tomatoes)
White paper (mozzarella)
Green paper (basil)
Cut out a round base. Add (glue) the chopped tomatoes.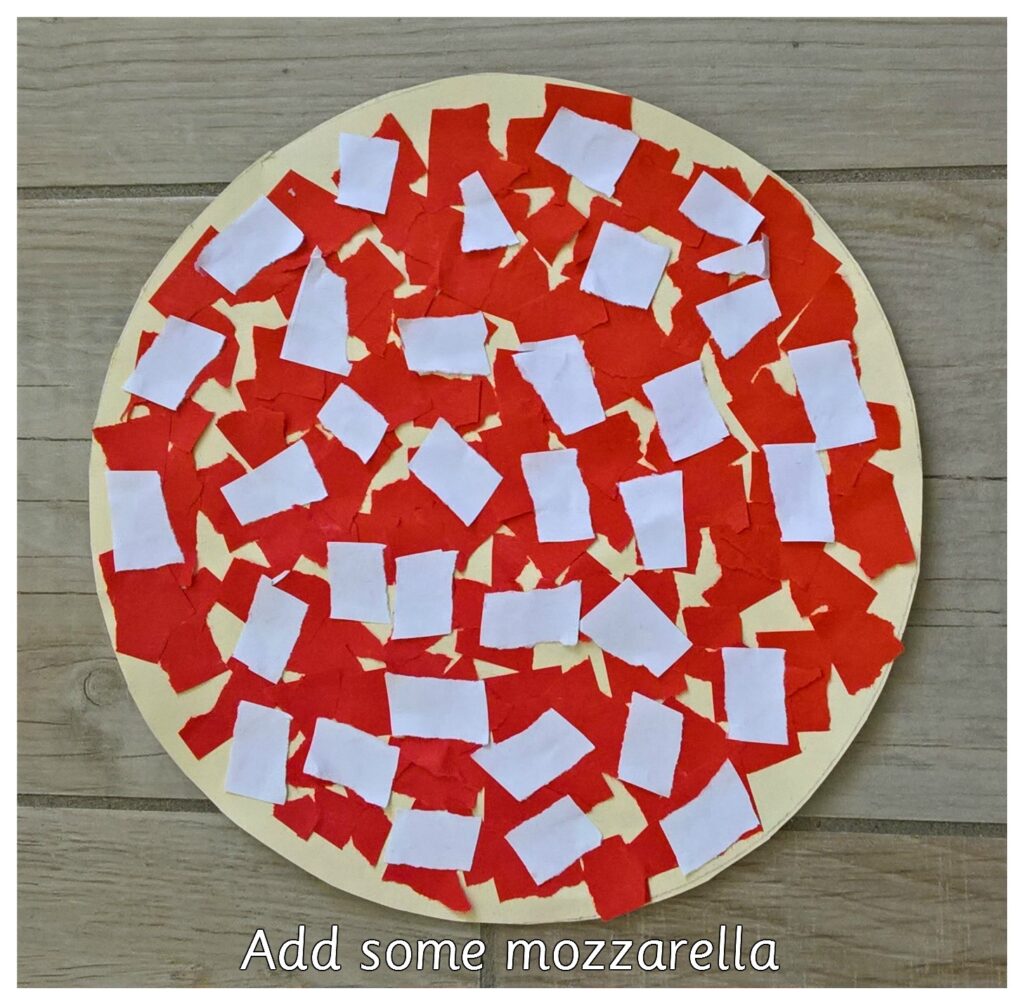 Add (glue) the mozzarella.
When ready, garnish with fresh basil.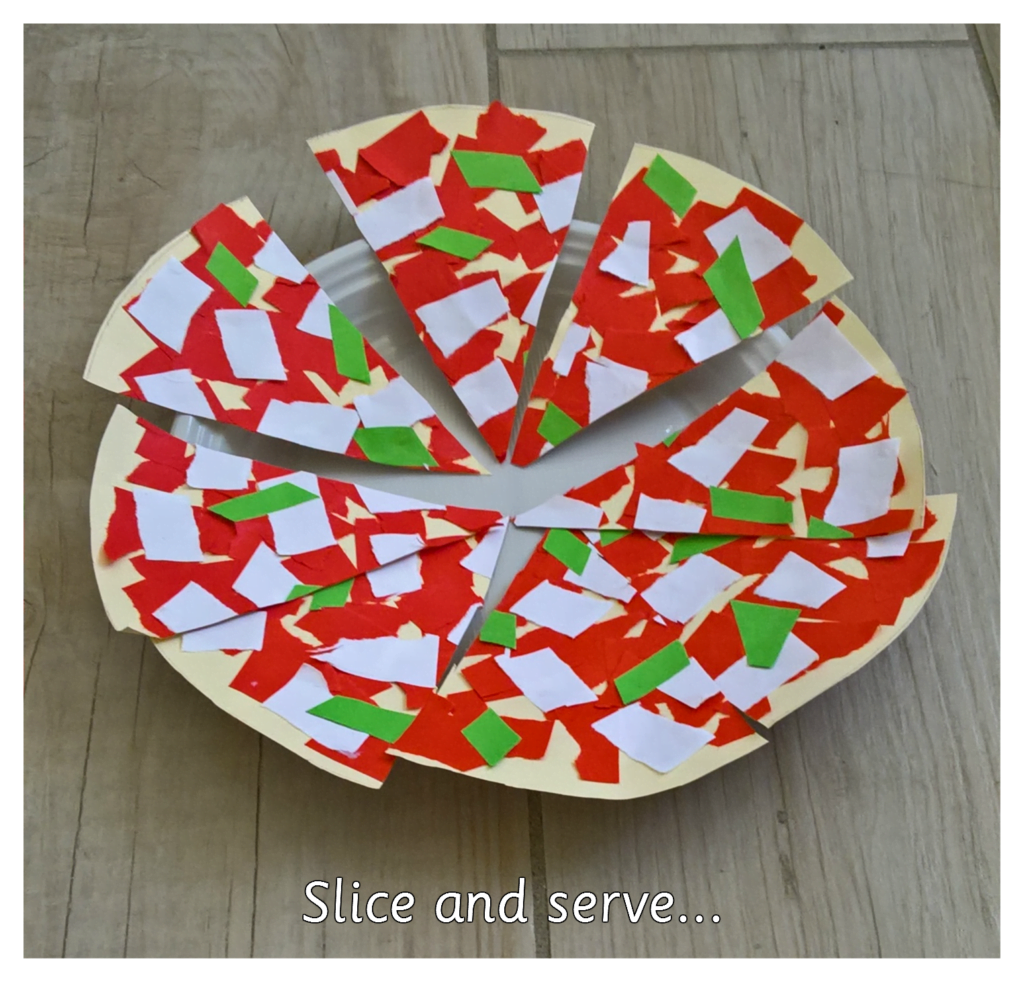 Your kids will have fun making this easy homemade (paper) pizza.
Buon appetito. Have fun…  🍕😊
What you can teach with this exercise
Sentence structure
"Do you like pizza?"
"Let's make a pizza".
"What kind of pizza do you like?"
"Put the tomatoes on top…"
"How many slices are there?"
"Count the slices"
Vocabulary
Pizza
Pizza base
Tomatoes
Mozzarella
Basil
Red, Green, White, Cream etc.
Fine motor skills
Cutting out the round pizza base
Cutting the slices of pizza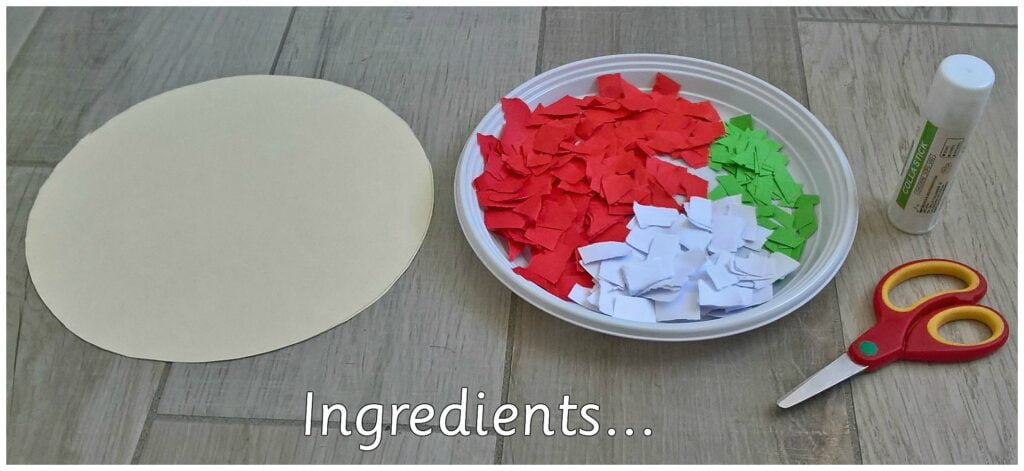 YOU MAY ALSO LIKE
DISCLAIMER
This activity is made of paper and glue and in no way is it intended to be eaten.